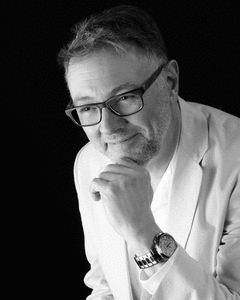 Spike Maiden Müller
Composer / Arranger
About
Spike Maiden Müller's compositions and arrangements have been performed by school and community bands, and school and church choirs in Georgia, Minnesota, Washington, D.C., Wisconsin and elsewhere..
His Twin Town Waltz, a jazz waltz for twelve horns, was awarded an honorable mention in 2017 in an international competition sponsored by the Twin Cities Horn Club and the American Composers Forum and juried by the hornists of the Minnesota Orchestra. The piece was premiered by the Twin Cities Horn Club in 2019.
Serving as a tenor section leader with the Minnesota Chorale for the past 30 years, he has also worked as a music educator and instrument repair technician.
Spike lives with his college sweetheart Mary in rural Wisconsin, where he makes rice soufflés, plays board games, and geeks out on Science Fiction.
Explore Music